Father's Day Favorites: Moroccan Neroli Shaving Serum & Post Shave Lotion
In need of some last minute gifts for Father's Day? Aesop's men's favorites have you covered! MOROCCAN NEROLI SHAVING SERUM


Moroccan Neroli Shaving Serum is formulated to facilitate an effortless shave. Its maximum-slip texture allows for smooth, razor-close contact while the formula's inclusion of calming botanicals ensures skin is left cooled, softened and hydrated.
Tame Hair Serum can be used as often as desired without creating build-up, and is readily removed by shampooing.
Moroccan Neroli Shaving Serum is packaged in 50 mL and 100 mL pump bottles, and is available from the Aesop store in the Mall of Emirates and Aesop.ae.
PRICE | 100 mL | 195 AED
POST SHAVE LOTION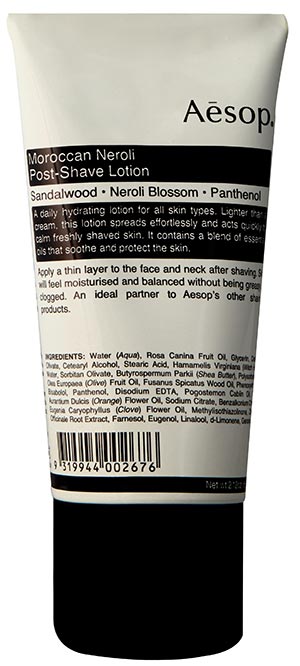 Aesop's Moroccan Neroli Post-Shave Lotion contains botanical extracts distinguished by their nourishing and calming properties, making this product perfectly suited for use post-shaving.
A lightweight lotion, it absorbs effortlessly to replenish moisture through the inclusion of hydrating Shea Butter, Rosehip Oil and Sandalwood. Panthenol, Bisabolol and Ginger Root extract – noted for their soothing properties – combine to assuage sensitive or shaving-stressed skin.
Moroccan Neroli Post-Shave Lotion is packaged in a 60 mL aluminium flip-top tube; it is also available as part of the Moroccan Neroli Shaving Duet, partnered with its Serum counterpart. It is available from Aesop signature stores, counters in select department stores globally, and at Aesop Online.
PRICE | 60 mL | 180 AED
All Aesop products are vegan and cruelty-free, and no ingredient utilised in our formulations is tested on animals.